Product Details
The CS 106 + 1 Professional Audio Mixer has been designed to incorporate a top quality audio path, housed in a rugged and portable chassis, with all the features required by professionals in the film and video sound business. The CS 106 + 1 offers six channels plus an optional seventh channel, or stereo module with M/S decoder. It directly interfaces with all location recorders, including the Nagra 4.2, IVS, studio and RDAT recorders, requiring no outside "black boxes" or custom cables. A comprehensive communications system has been built in providing maximum versatility in the field. With specifications equal to the best studio mixers, the CS 106 + 1 excels in any application.
The CS 106 + 1 provides more headroom and lower distortion then other mixers of this type. Built and serviced in the U.S.A., this extremely versatile and high quality unit will fully satisfy all current and future requirements, including digital recording, without compromise.
The CS 106 + 1 includes as standard features:
Fully modular channels
Individual channels are not hardwired to the chassis and may be switched on location.

Internal batteries
Twelve "D" cells provide many hours of continuous use. The battery tray slides out for convenient battery replacement.

Selco VU or PPM meters
Analog meters are precise and easily read even in sunlight.
Also included:
P & G slide faders, Jensen input and output transformers, engraved panels, gold plated connectors and switch contacts - only quality components are used throughout.
The CS 106 + 1 offers exceptional operator convenience. The pots, many with center detents, have been located for practical operation. The limiters on any channel may be switched out of the circuit. Different microphone powering requirements are selected by switch. Other features are: three discrete monitor outputs with tape returns, talkback, communications and remote roll.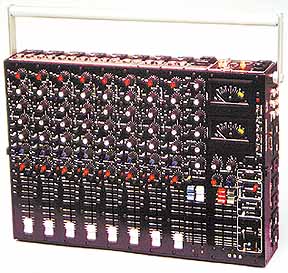 CS 108 + 1 Audio Mixer
Shown with eight mono input channels and optional CSD-2 Aux. module.
This extended chassis version provides up to 9 input channels (mono or stereo) and includes all the features of the CS 106+1.
Size: 17.1 x 12.3 x 3.3 inches.
Weight: (No batteries) approximately 18 lbs.